About MOT Checks
As a seasoned driver you may not be asking yourself what is an MOT check, or which test class you need. However many new drivers do! As a new driver, you need to pay attention to make sure that you renew the MOT test every year.
Without a valid MOT you are not allowed to drive the car or leave it parked on a public street. There is an exception for driving to a testing centre or to a technician to fix the reason of a failed test.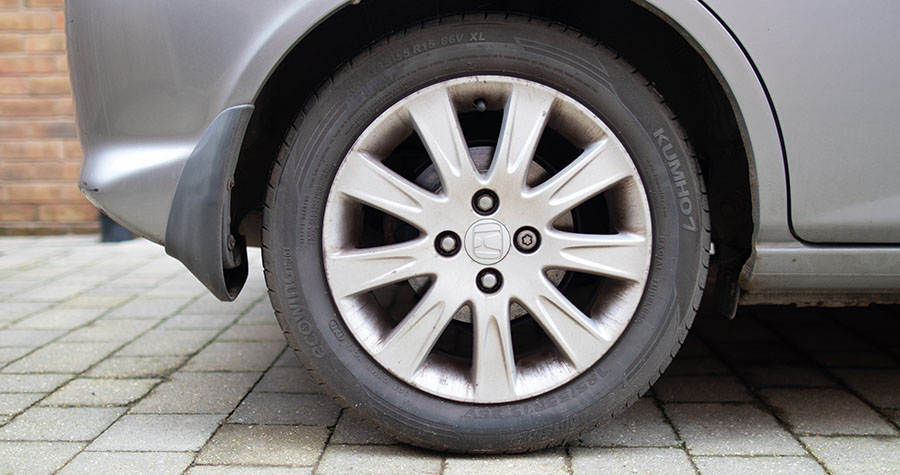 What does MOT check mean?
The MOT test is an annual Ministry of Transport vehicle road worthiness check that is required to legally drive a car, bike, van or a lorry in the UK. MOT is checked at many testing locations nationwide and the maximum cost of it is regulated by the government.
FAQs
You can find the most up to date details and prices on the gov.uk page about MOT checks.
How to pass the MOT test
MOT tests are designed to make sure that your vehicle is safe to drive and while there are some issues that you may not be able to spot before the test, there are a few that are really easy to check.
Can you fail the MOT on tyres?
MOT test can be failed on damaged tyres, insufficient tyre depth, incorrect fitting or different sized tyres on the same axle. Find out if you need to have a spare tyre for the test.
Can you fail the MOT test on tyre pressure?
Tyre pressure measurement is not part of the test and deviation from the manufacturer recommended pressure won't cause a failed MOT. A tyre pressure warning light on the dashboard can fail the test. A flat tyre may indicate a tyre puncture which will result in a failure, also a flat tyre will prevent the other MOT test checks like brake efficiency from being carried out.
Can you fail the MOT on the number plate?
A dirty number plate can result in a failed MOT test.
Is a faulty number plate light an MOT failure?
Missing or broken number plate lights will result in a failed MOT test.
Can you fail the MOT on rear wiper?
Rear wiper is not checked during the MOT test so you can't get a fail because of it.
Front wipers need to efficiently clean the windscreen and can fail the MOT if they are leaving smears or if they obstruct the view of the road. Front wipers can result in an MOT test fail when they are not operating, missing or the wiper blades are defective.
Can you fail the MOT on brake pads?
Brake pads wear out over time and can also suffer from other problems. A roadworthy vehicle can't have faulty brakes so they are checked as part of the MOT test and you can get a fail if faults are identified.

Some of the common brake pad faults that will result in a failed test are:
Pads worn out below the minimum allowed thickness of 1.5mm or wear indicator illuminated on the dashboard
Brakes contaminated with oil or grease
Missing or incorrectly installed brakes/pads
Can you fail the MOT due to issues with suspension?
Suspension can fail the MOT test for reasons such as corrosion, cracks, unsafe modifications and other damage.
Can you fail the MOT on shock absorbers?
If your vehicle has shock absorbers fitted as standard, they will be inspected. The vehicle can get an MOT fail on shock absorbers if they are missing, insecurely attached, damaged or are showing signs of severe leakage.
Can you fail the MOT test because of tracking?
Tracking in itself shouldn't cause a failed MOT test result but because of it you may have other faults like unevenly worn tyres which can result in a fail.
Can you fail the MOT on clutch?
A car's clutch is not a part of the MOT test and won't result in a fail. However the clutch is tested in some passenger vehicles (Class 5 test that applies to vehicles with more than 13 seats) and needs to be working correctly and sagfely.
Top causes of MOT failure, some of which you can easily fix before the test.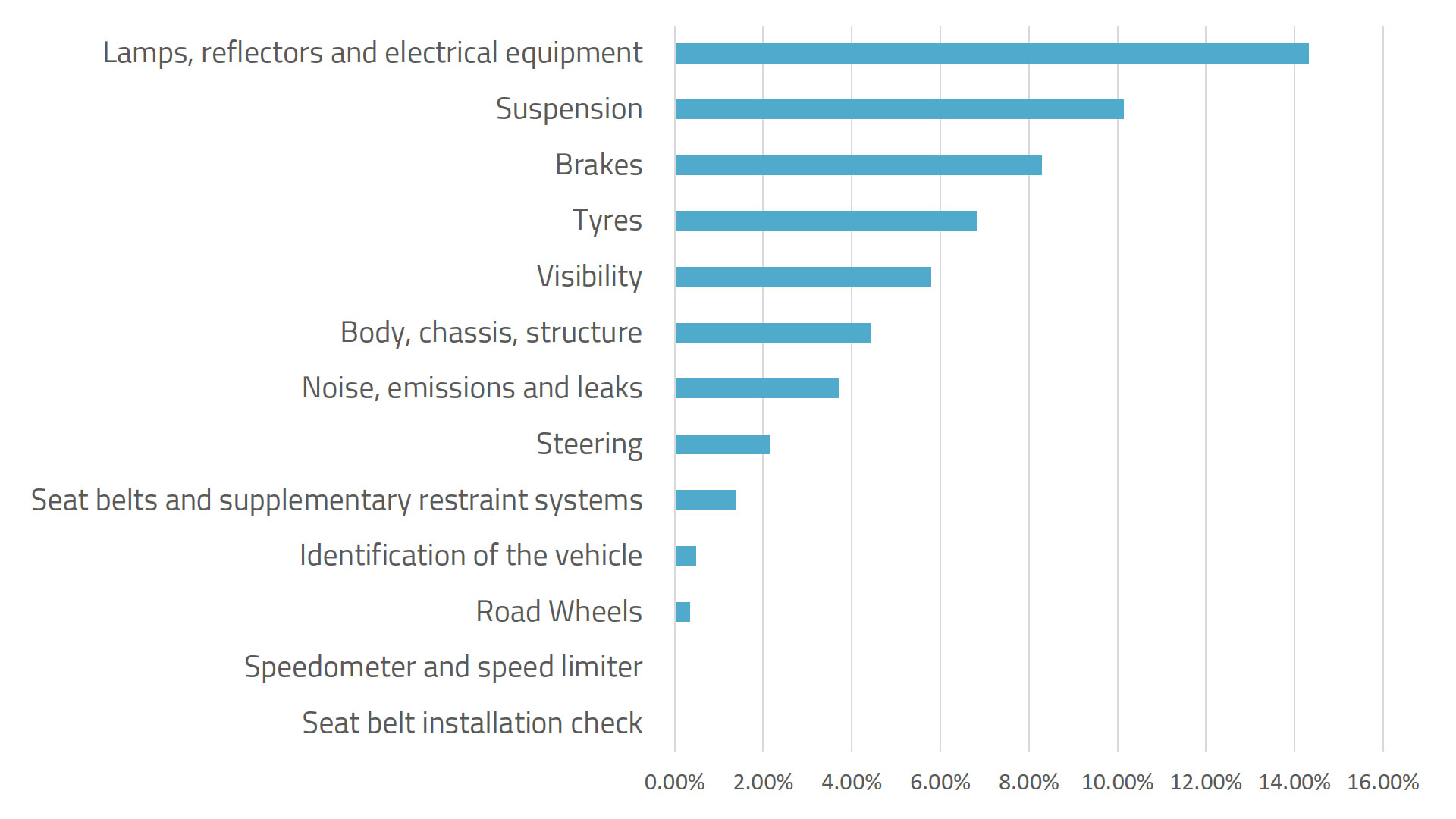 Lamps, reflectors and electrical equipment (14.33%)
First thing you should check are all the lights. Don't forget to test the brake light, reversing light, full beam, hazard light and reg plate illumination. You can ask another person to look at the lights while you are in the car or do it in the evening and look for reflections.
Suspension (10.14%)
We recommend leaving this to the professionals to check.
Brakes (8.3%)
We recommend leaving this to the professionals to check.
Tyres (6.82%)
Check the tyres for tread wear and any cuts.


Cars, light vans and light trailers — 1.6 millimetres (mm)
Motorcycles, large vehicles and passenger-carrying vehicles — 1mm

Visibility (5.79%)
Remove any air fresheners or toys hanging inside.
Check the rubber inserts on your windscreen wipers, make sure there's no smearing and top up the washer fluid so the wipers can be tested.
Body, chassis, structure (4.43%)
We recommend leaving this to the professionals to check.
Noise, emissions and leaks (3.70%)
We recommend leaving this to the professionals to check.
Steering (2.14%)
We recommend leaving this check to the professionals.
Seat belts and supplementary restraint systems (1.39%)
Check that all the seatbelt buckles are out, these can get behind the upholstery when folding seats.
Identification of the vehicle (0.48%)
Wipe your number plates with a cloth, check lights illuminating the numberplate are working.
Road Wheels (0.35%)
Check there are no bolts missing or loose otherwise you will get a Major or Dangerous fault in your result.
Speedometer and speed limiter (0.01%)
For more in depth information please refer to
the Gov UK MOT inspection manual.
FAQs
You May Like Some of Our Products